Dark green embroidery round back design
Everyone Wants to look attractive and beautiful and your dress play an important role in that ,if you like to wear indiandresses this blouses will enhance your look and overall personality . These blouse should be a part of your wardrobe and in your dress collection .
Floral and embroidery blouse design
If you want to look beautiful with any heavy saree wear these blouse with thread work and beautiful pattern will blow your mind .
Dark green floral print blouse design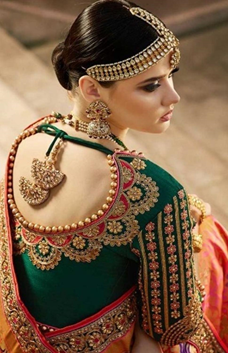 Stunning design with pearl work all over the line of the baclopen blouse .Wear it with any of your silk saree to enhance the work of the blouse , small flower work on the hand area is looking very elegant and giving beautiful vibe of our culture this would be the best option for wedding and for every Indian festivals , wear it and everyone eyes will keep looking at you. You can watch it with any of your lehnga and saree add some jewelleries also to enhance the overall look.
Sky blue and light green combination blouse work 
This green and blue blouse can never a bad choice for girls to wear it on their special days . Moraccan design all over the blouse and the peacocks are enhancing the l overall design of the blouse , That Small 'latkans' on side of thae hands changed the overall look . Wear this type of blouse with any simple silk saree because heavy blouse looks best with simple saree. This design is perfect for heavy lehngas .
      Dark red simple embroidery design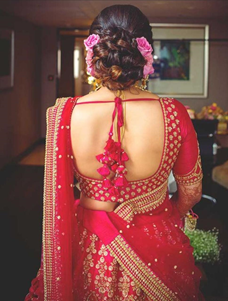 Best bridal blouse design for bridal lehngas and heavy sareesbecause of the simple and attractive work all over the blouse will attract everyone eyes on you , every girl wants to look best on their special day and the dress is key of that dream . To enhance the look of your any dress or lehnga blouse plays an important role ,pick up the best.
     Puffy red sleeves blouse design 
Perfect for people who wants to wear blouse without showing their fatty hands of the top, that puff of the hand will cover it all , very light and cute flower design in the ends of the back and hands . Perfect for Summers and you can wear it with any Georgette saree . Your can Pair it with any heavy jewellery because of the light work on the design.
                    Dark blue peacock design
This is the perfect mixture of blue and peacock design on the back on the blouse embroidery work all over the back
Will change the look of your saree . You can wear it with any of your silk or Georgette fabric . This blouse will be perfect for any party in your house . That small flower work all over the blouse is looking beautiful . Fill your wardrobe with this type of blouse because you can Pair it with any western or indian saree .
                Pink heavy embroidery work 
If you are looking for any blouse to wear it on your engagement day this couple engagement design on the hand will be the best ,flowers over the blouse and glitter work is the perfect mixture . Dark pink and orange can never be a wrong . You can wear this blouse with any of your silk saree . Heavy jewellery and beautiful bangles will look fabulous on this blouse
     Dark pink thread work blouse design
Looking for simple and attractive design of blouse wear this and everyone eyes will look only you , honeycomb design all over the hand is giving a vibe of western design in a mixture of ethnic . Half sleeves blouse would be the best option for Georgette saree because of the embroidery work all over the blouse . This blouse will highlight your outfit as well as your wardrobe . To enhance the look of the your dress pair it with light jewellery and bangles .
         Purple thread work blouse design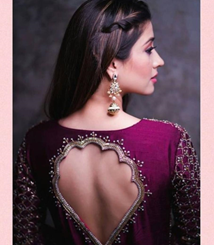 This purple shiny blouse with heart shape design give you aattractive as well as bold look ,make a bun to enhance the back design . This cloth will be best in summers because of cotton and icy work all over the hand and back . Wear this shiny blouse in any party and everyone will give many compliments . This blouse is a perfect mixture of western and ethnic blouse.